This revealed in the testimony of the President of the Federation of Kattankudy Mosques And Muslim Institute Attorney Abusali Uwaize.
During his testimony, Dr. Jayampathy asked, "the people in the area say that Kattankudy is being arabicized, but who started it?"
Witness: It happened during Hizbullah's time. It was during his time that date trees were planted.
Dr. Jayampathy: So that means Hizbullah is the pioneer?
Witness: I don't know if he is the pioneer, but it happened during his time.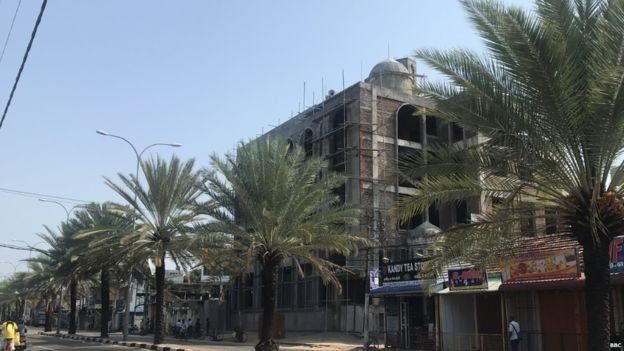 Expressing his views, Professor Ashu Marasinghe said a group, including himself had visited the Batticaloa Campus (Pvt) Ltd and they felt as if they were in Saudi Arabia.
A debate also took place regarding the sign boards in Kattankudy which are in Arabic.
During this debate, MP-M.A. Sumanthiran inquired as to who controls the Urban Council, which is responsible for the erecting of sign boards.
In response, the witness said that it was 'Hizbullah's Team' that was controlling the Urban Council.
Is the 'Sharia' University a 'money laundering' effort?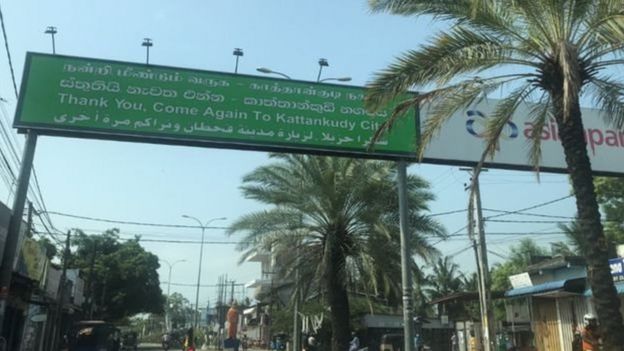 Prof. Ashu Marasinghe referring to the names of several schools said that the former Governor Hizbullah, his son and mother's names have been given to them. He also asked the witness about a 'Hizbullah Square'.
However, the witness said that he was unaware of a Hizbullah Square, but there were buildings made according to Iranian architecture.
Recently the BBC Sinhala Service had inquired from Hizbullah regarding the appearance of the Batticaloa University and he had responded saying, "It was designed by a reputed Sinhala Architect based on Moghul architecture."
He had also said that all universities constructed using state funds were designed according to the area. "The Peradeniya and Jaffna Universities are constructed according to the culture in those areas. However, we are constructing this university with our private funds and we have the freedom to design it the way we want.
Take for instance the Southeast University, it has been designed according to Muslim architecture, but there are Sinhala students studying there," Hizbullah had told the BBC Sinhala service.
However, Hizbullah was not available for comment regarding allegations of him having arabicized the kattankudy area.
"Saharan from a poor family"
In his evidence, Abusali Uwaize said that that Saharan hailed from a poor family and in 2017 Saharan and group had used stones, swords, knives and clubs for criminal activities.
He said as such it is a big question for the Muslim population as to how Saharan suddenly got so much money and knowledge about explosives.
He said in Sri Lanka all minority Muslims enjoy all privileges including separate marriage laws, property laws etc, adding that under such a situation, extremism cannot be accepted.
Hizbullah to testify today
The special parliamentary select committee appointed to investigate the Easter Sunday bombings is scheduled to meet today (13), while former Eastern Province Governor Hizbullah, former IGP N.K. Illangakone and former State Administration Ministry Secretary J.J. Ratnasiri are scheduled to testify before the committee, according to MP Ashu Marasinghe.