Congratulations on this film. With Marvel movies, I'm already excited going in, but with this one I was even more excited coming out of it. I wanted to see it again almost immediately when it was over. Obviously, we're coming right off of Endgame, and Peter's lost his father figure, which is Tony Stark. Talk to me about his relationship with Quentin Beck.
Tom Holland: It's an interesting one. It's not really one we've seen before in the world of Spider-Man. Obviously he's famously a solo character, so it's quite nice to see Spider-Man teaming up with someone in his own movie. They kind of have a big-brother, little-brother relationship and they become fast friends, as Jake and I became fast friends on set. And it's just really, really nice dynamic to see Peter Parker because right now in his life he really needs a buddy. He needs a friend; he needs a hug. It's just nice that he can confide in Mysterio like that.
Zendaya, for you, MJ's expanded role in this film is quite awesome. I love the character. She almost wears a mask herself with the secrets that she keeps. Talk to me about where she's at in this film.
Zendaya: I think she's like most of us in the sense that she kind of has a defense mechanism. Basically, she's a truth-teller no matter how much it hurts people's feelings. So, with that, I think people misunderstand her or never get a chance to get to know her. But Peter likes that. He likes all the quirky weirdness that she is and also, she likes all the quirky weirdness that he is. And I think that together they see each other. It's very sweet, and he helps break down those walls that she naturally builds to protect herself.
Jacob, it's the Summer of Love.
Jacob Batalon: Yeah! It really is. Really quick: you like that? Sorry, I'm so sorry.
Tom Holland: I can hear you giggling to yourself.
Zendaya: You just thought about that?
Jacob Batalon: Because you said, "Peter likes that." I'm like, "You like that?"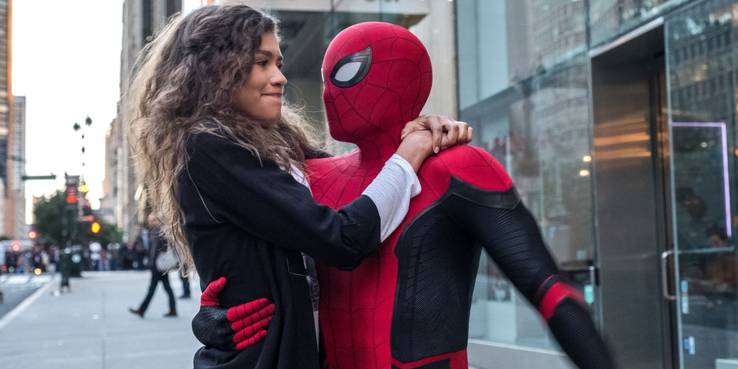 It's the Summer of Love. Talk to me about the possible romance with you and Betty.
Tom Holland: The possible romance? The romance!
Zendaya: It's a full-blown romance.
Jacob Batalon: It's a whirlwind romance that just happens quickly and is, like, an innocent and sweet and cute little side plot. They're just very innocent teenagers who didn't think they'd find love, but they did.
Earlier today Kevin told me a story about a list of things you wanted to accomplish after you got the role of Spider-Man, a list in a year, and one of them was working with Jake. Can you talk to me about what you may have learned working with Jake? Because Jon also told me it was almost the same kind of mentor relationship you had with him offscreen as well.
om Holland: Yeah, very much so. We became fast friends on set; it was clear from day one that we were going to be good friends. He's someone that I've really always looked up to in the industry and to get the chance to work with him at such a young age and on a film like this is a huge honor. And I've learned so much from him. He is very collected in the way he works. It's very interesting, and it's hard to name a bad Jake Gyllenhaal film. So I could talk for hours about what Jake's taught me, but the best thing I've taken away from this film with Jake is a great friendship and one that I'm sure will blossom in the future. And it won't be the last film we make together.
That's amazing. Obviously you were all around Europe in this film. What location was your favorite to shoot at?
Zendaya: I would say the Tower of London was pretty cool.
Tom Holland: Did you actually film on the Tower of London?
Zendaya: Well, in the entrance to the castle, kind of.
Jacob Bantalon: We did run down that one, so…
Tom Holland: Sorry, I meant tower bridge.
Zendaya: No.
Tom Holland: Oh, that was a set, wasn't it?
Zendaya: A piece of it. But that was fun that day, other than the fact that we had to wake up at 3 in the morning. Our call time was 3am, I was like, "Love that."
Jacob Batalon: It's really cray when you see extras running, and you just feel like everything's real because… Remember when we were filming on the bridge and everyone was running, and everyone thought something was happening? Like an actual event was occurring?
Zendaya, last thing. My girlfriend's a huge fan of The Little Mermaid, and she's literally fancast you as Ariel. What are the chances we can make this happen? You have a beautiful singing voice.
Zendaya: Thank you, I'm flattered. It's a rumor that has been going around for a long time. I don't know where it came from, but it's very flattering. I'm a huge Little Mermaid fan, but it's just not true.
Hopefully I can wish it into existence.
Zendaya: I'm not in charge, so we can all wish it into existence.